The fire pump is an important equipment in fire protection. Therefore, it is necessary to understand the relevant knowledge points on how to select the fire pump. The vertical multi-stage fire pump is one of the types of fire pumps. The multi-stage fire pump is widely used and widely used in environmental protection. , water treatment, fire protection and other industries. The multi-stage fire pump is safe, leak-free and corrosion-resistant. Choosing a cost-effective multi-grade fire pump product can not only improve product efficiency, but also reduce costs.The flow rate of the delivered liquid is one of the important performance data, and the flow rate of the transported liquid is directly related to the entire device.Production capacity. The selection of fire pump should be based on the process flow of the fire pump application engineering, water supply and drainage requirements, from the five aspects of liquid delivery, device head, liquid properties, pipeline layout and operating conditions.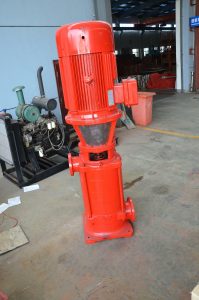 Technical parameters and performance characteristics of XBD vertical multi-stage fire pump set:
Technical Parameters:
Flow rate Q: maximum 160m⊃3;
/h Head H: up to 300m
Power P: up to 110kW
Liquid temperature: 0°C-45°C
Performance and advantages:
Small footprint Smooth operation, low vibration and long life Easy to install Wide range of applications Reliable seal, no leakage Energy efficient, beautiful appearance.