Fire pump packages manufactured by Better Technology CO., LTD. In accordance with the Chinese national standard GB27898.5-2011 fixed fire water supply equipment part 5 "fire double power water supply equipment" hereinafter referred to as "packaged fire pump", " Fire Pump Set" or "fire pump packages" and National Fire Protection Association's NFPA20 "Standard for the Installation of Stationary Pumps for Fire Protection"(2016). and meet the latest Chinese national standard CCCF certification requirements and obtain a certificate. Fire pump package is one of the reliable products in fire water supply equipment.
The minimum fire rated working pressure of fire pump package is 0.3MPa, and the minimum fire rated working flow is 2L/S. The fire pump package includes at least two types of motor pump sets, engine pump sets, jockey pump sets, diaphragm pressure tanks, pipes, valves, electrical control systems, control sensors and other related accessories driven by the power source. Fire water supply equipment continuously supplies water to the fire pipe network. The reasonable layout, the firm installation, the reliable connection, the compact and tidy structure, and convenient for maintenance and overhaul.
The motor pump set refers to a fire pump set that uses an electric motor (AC, DC) as a power-driven pump. The engine pump set refers to a fire pump set that is powered by an engine (diesel engine, gasoline engine, steam engine, etc.) as a power source for driving the water pump. Jockey pump set refers to the fire pump set that uses electric motor (AC, DC) as the power to drive the flow less than 5L/S, head slightly higher than the motor pump set or engine pump set.
Electric pump:  kinds of end suction pump, split case pump, multistage pump. made of cast iron, stainless steel. Impeller can be bronze.   5.5-710 kw    0.3-1.2 mpa    10-420 l/s (100-6600GPM)
Diesel pump:    Flow is the same with electric pump. It connects the pump set with High elastic coupling or universal joint. It also includes water tank, oil tank, fans, control screen etc.    7.0-810 kw    0.3-1.2 mpa     10-420 l/s (100-6600GPM)
Jockey pump:   horizontal or vertical, small flow, head is higher than electric or diesel pump   0.75-4kw      0.45-1.36 mpa        2-4 m3/h   
Control panel:  control the pumps automatically with overload, overcurrent protection                           
Accessories:    check valve, gate valve, pressure tank (0.6mpa, 1.0mpa, 1.6mpa) Pressure gauge, pressure sensors, import and export common pipe, soft joints, flanges and common base.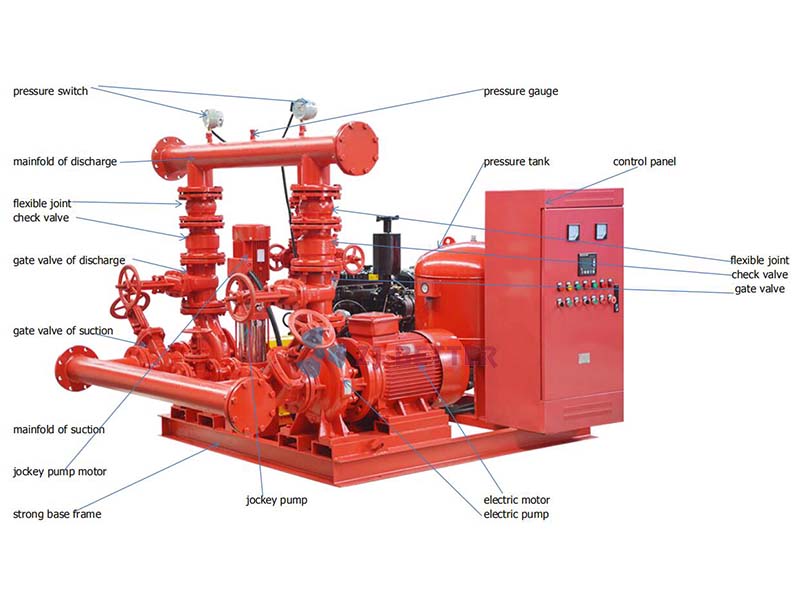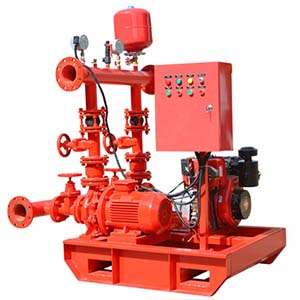 E+D
E+D small fire pump package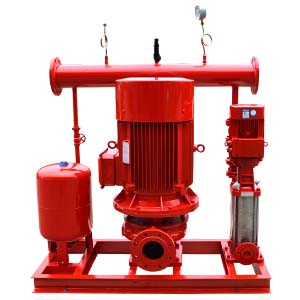 E+J
E+J fire fighting package set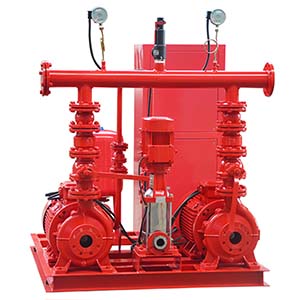 2E+J
2E+J fire fighting package
Caliber: 50-200mm
Flow: 100,200,300,500,750,1000…GPM
Head: 3,4,5,6,8,9,10…BAR
Power: 10,15,25,40,75,100,150…HP
Operation: 1duty + 1 standby + 1 jockey
Contain: Electric, Diesel engine, Jockey pumps
System: pumps control panel, (pressure vessel) use for fire fighting
Material: HT200, SS304, Bronze, carbon steel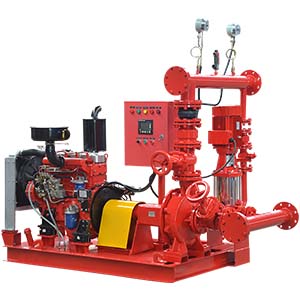 D+J
D+J packaged fire pump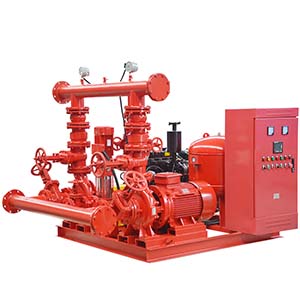 E+D+J
E+D+J fire pump package
When there is a fire, a more reliable way to ensure water safety. The fire pump package is normally controlled by the jockey pump through a pressure sensor to regulate the entire fire pipe network system. Under normal conditions of the power supply, the electric pump is put into operation. When the grid is out of power or the power supply system fails, or the electric main pump fails to be put into normal use, it will automatically switch to the diesel auxiliary pump. When the fire control center or other signal issues a pump command, it operates according to the actual situation at the time to ensure the normal supply of the fire pipe network.
Altitude ≤ 10O0m;
Ambient temperature: +5 ℃ ~ +4O ℃;
Relative humidity:≤ 90%
1. The fire extinguishing system of enterprises and institutions, construction, high-rise buildings and other fixed fire -fighting system, automatic sprinkler system.
2. High-rise building zoning fire-fighting system, fire and life, production
of common water supply systems and construction, municipal, industrial and mining, boiler feed water and other occasions.
3.Fire water supply and emergency water supply in docks, warehouses,airports, petroleum, chemical industry, power plants, liquefied gas, textiles, ships, oil tankers and other occasions.
Please feel free to give your inquiry in the form below. We will reply you in 24 hours.